DEWALT ATOMIC !!!

For all those folks hoping @dewalttough would be bringing back there 12v line of tools ..maybe adding some new brushless offerings ..the new DeWALT ATOMIC 20v Brushless line might be the best that your going to get…. In actuality I think it's the right move it's been so long since DeWalt has released a new 12 volt tool… That I think trying to get people back into that 12v line would not be the best for them overall…besides a drill/driver and impact driver a multi-tool , 3 5/8 circular saw and hackzall will be released later in year …drill kit $159 , impact driver kit $149 , Drill& Impact Driver Combo kit $229…
Dewalt ATOMIC Drill https://homedepot.sjv.io/c/1241153/456723/8154?u=https%3A%2F%2Fwww.homedepot.com%2Fp%2FDEWALT-ATOMIC-20-Volt-MAX-Lithium-Ion-Brushless-Cordless-Compact-1-2-in-Drill-Driver-w-2-Batteries-1-3Ah-Charger-Bag-DCD708C2%2F308067442%3Firgwc%3D1%26cm_mmc%3Dafl-ir-1241208-456723-%26clickid%3DQOCygs2GozcmWZqQMfVVi0EXUkl05GRpz1QsVI0
DeWalt ATOMIC Impact https://homedepot.sjv.io/c/1241153/456723/8154?u=https%3A%2F%2Fwww.homedepot.com%2Fp%2FDEWALT-ATOMIC-20-Volt-MAX-Lithium-Ion-Brushless-Cordless-Compact-1-4-in-Impact-Driver-w-1-Battery-1-3Ah-Charger-Tool-Bag-DCF809C1%2F308067546
Dewalt ATOMIC Combo Kit https://homedepot.sjv.io/c/1241153/456723/8154?u=https%3A%2F%2Fwww.homedepot.com%2Fp%2FDEWALT-ATOMIC-20-Volt-MAX-Lithium-Ion-Brushless-Cordless-Compact-Drill-Impact-Combo-Kit-2-Tool-2-Batteries-1-3Ah-Charger-DCK278C2%2F308067489
Ryobi Super Coupon Feb 1st – Feb 3rd

Milwaukee M18 FUEL POWER HEAD

The MILWAUKEE M18 FUEL 10″ Pole Saw kit w/ QUIK-LOK, designed to meet the needs of landscape maintenance professionals, delivers the power to cut hardwood branches, reaches full throttle in under 1 second, and delivers up to 150 cuts per charge. The cordless pole saw is made of two components the M18 FUEL Power Head w/ QUIK-LOK and QUIK-LOK 10 Pole Saw Attachment. This M18 FUEL Power Head, part of the QUIK-LOK Attachment System, is compatible with multiple attachments such as an Edger, Articulating Hedge Trimmer, and String Trimmer attachment. This provides the ability to quickly swap out attachments on a single Power Head, delivering ultimate versatility and a lower cost of ownership.
DeWalt 20v Mid-Range 1/2 in Tool Connect Impact Wrench

The TOOL CONNECT™ 20V MAX* XR® 1/2″ Mid-Range Impact Wrench achieves 0-2000 RPM, 3100 impacts per minute, and a maximum torque of 330 ft.-lbs. in forward and 600 ft.-lbs. in reverse. At only 6.95" in length and 3.48 lbs. (tool only), it's a compact choice available in both Hog Ring and Detent Pin configurations. This wrench also features an efficient brushless motor, variable speed trigger, convenient belt clip, and bright LED for illuminating low-lit work areas.
The New Ridgid 9.0ah
Bosch Dual Bay Charger with 2.4 Amp USB Port
Dual-charging convenience – allows users to charge a Bosch 18V or a Bosch 12V max battery with one charger

USB port – provides a way to charge a mobile phone (and other devices) with a 2.4 amp max port

Compatible with all Bosch 18-Volt Lithium-Ion tools and chargers

Unique Cool Pack Design: Special heat conductive housing and ribbing pulls heat away from inside the battery, keeping the battery cooler
Amazon https://amzn.to/2yW02Be
DeWalt 12.0ah Battery
The FLEXVOLT 12.0 Ah Battery provides up to 8X runtime** in 20V MAX and delivers ultimate power in 60V MAX* and 120V MAX* cordless tools. It changes voltage when you go from 20V MAX* to 60V MAX* tools. Lithium Ion technology delivers performance in the same size as our 9.0 Ah Battery, so it is more powerful in as compact a package as possible. It also includes a built-in LED Fuel Gauge for instant charge status, and is compatible with all 20V MAX* tools and chargers.
Amazon https://amzn.to/2qvmQ6c
Greenworks GBB700 Dual 82V Backpack Blower
---
Coming soon the Dual 82v Greenworks Backpack Blower, Greenworks claims that their new backpack blower, running off two 82V batteries, will push 690 CFM at 165 mph
DeWalt 20v XR 3.0ah Compact Battery
By leveraging new technologies and battery innovations, DEWALT introduces the new 20V MAX Compact 3.0Ah Battery (DCB230). Compared to the existing DCB200, the DCB230 offers the same capacity and is 20% lighter.
The slim 20V MAX Compact 3.0Ah Battery adds to the wide range of battery options offered by DEWALT. From compact to heavy-duty, DEWALT users can choose the optimal battery for their application. Each battery is compatible with the 20V MAX* System from DEWALT, now totaling over 165 products.
With a 3-year limited warranty and 3-year free service, the 20V MAX Compact 3.0Ah Battery will be available starting in March sold individually for $99 MSRP (DCB230), sold in a two pack for $129 MSRP (DCB230-2), and a starter kit with one battery and DCB112 charger for $119 MSRP (DCB230C).
Ryobi 18v 2 Gallon Wet/Dry Vac
Ryobi has been hitting it hard lately with a bunch of new products and many more in pipeline .This is one of them , a 18v 3 Gallon Wet/Dry Vac will be out this summer . They also have a larger 6 gallon Wet/Dry Vac on wheels thats been turning alot of heads ..you can check out below.
Home Depot: http://www.anrdoezrs.net/links/8373330/type/dlg/https://www.homedepot.com/p/Ryobi-18-Volt-ONE-6-Gal-Cordless-Wet-Dry-Vacuum-Bare-Tool-with-Hose-Crevice-Tool-Floor-Nozzle-and-Extension-Wand-P770/302775352
Porter Cable 20v Shop Vac
Available Dec 2017
Makita 12v Brushless Jigsaw
The new Makita jig saws are great for "woodworkers, cabinet makers, remodelers, and general contractors."
5-speed control dial
800-3000 SPM
Variable speed trigger with lock-on button
3 orbital settings
Tool-less blade change system
Brushless motor provides for up to 50% longer runtime
Weighs 4.1 lbs with battery
Soft-start motor for more accurate starts
0-45° bevel base
Aluminum base
Dual LED worklights
Built-in dust blower
9-3/8″ long
The Makita 12v Jigsaw will be available in 2 options ,a bare tool (VJ06Z), and a kit, (VJ06R1J), which comes with a charger, interlocking case, and (2) 2.0Ah battery packs.
Amazon: https://amzn.to/2Js5Jty
Ryobi 18 Volt Wet/Dry Vac , Coming Soon …This could be a Game Changer
Ridgid (R8643) Brushless Recipricating Saw…Coming Soon !!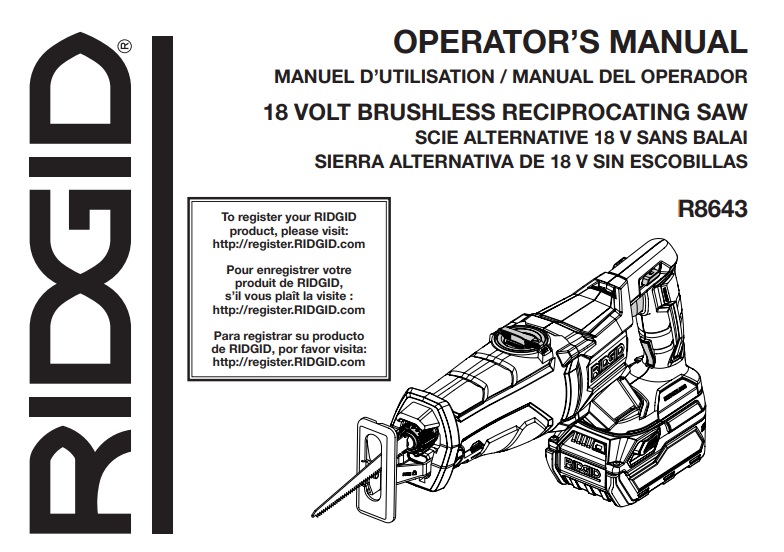 Replaces the Ridgid Gen5X Model , the New Brushless Saw will also have Orbital Function ,just like the Gen5X Model
Milwaukee Tools new PACKOUT™ interlocking tool boxes are the industry's most durable and versatile tool storage system, making it easier than ever to store, organize, and transport your tools
Available Oct 2017
Tool Boss Milwaukee Combo Kit Giveaway
May 20, 2017
//z-na.amazon-adsystem.com/widgets/onejs?MarketPlace=US&adInstanceId=189760e1-5158-49dd-ba10-c7aec871426d