Milwaukee Heated Jacket
Powered by M12 REDLITHIUM Battery Technology, the Milwaukee M12 Heated AXIS Jackets are built to layer & be your primary source of heat. Add the GRIDIRON Work Shell to combat extreme cold weather conditions. M12 Heat On Demand combined with optimal insulation in both jackets delivers ultimate warmth. GRIDIRON Ripstop Polyester provides durability without sacrificing mobility so you can survive the jobsite.
DeWalt's cordless one-handed reciprocating DCS367.
Milwaukee's new m12 right angle die grinder seems to pack a punch in a small little package.
they are also releasing a similar version with straight end if the right angle isn't for you.
(2485-22) $259 kit
RPM: 0 – 24,500
4-Mode RPM Control
Power Output: 0.3 HP
Collet Size: 1/4″
Length: 4.5"
Weight w/ battery: 1.7 lbs
5-year tool warranty, 2-year battery warranty
Includes M12 FUEL™ 1/4" Right Angle Die Grinder, (2) M12™ REDLITHIUM™ CP2.0 Battery Packs, M12 Charger, (2) Wrenches, and Contractor Bag.
Release Date: October 2019
*Also available as bare
M18 FUEL PackOut Kits
Here's just one of them new Milwaukee M18 fuel packout kits that will be debuting this holiday season at Home Depot.it looks very familiar from last year's offering but with one edition a brushless angle grinder model number is 2997 – 24PO. Finally they're starting to add some other tools to their packout kit offerings. This is their large packout box if you remember last year they also had a wheeled packout box kit not sure yet if they'll be coming out with one of them but we'll have to wait and see what tools are included with that pack out box.
Milwaukee Packout Accessory Kits
Here's some of the future Milwaukee packout kits. They include a hole dozer set a bit set and more.This is just the beginning I'm told ..also expect some new power tool Packout Kits . The 101 piece Shockwave bit set will be offered with a variety of bits and have an MSRP of $69. Acme Tools http://shrsl.com/1v8zs
Makita 40v XGT ..Next Generation Technology
This is what Makita has been working on , we know about there pure 36v line and there 18v X2 36v platform,that uses 2 18v batteries. I think it's a good idea,for them ..They have a 12v ,18, 18v X2, 36v and now 40v ..giving there customers options I guess .. Obviously you can't tell much from pictures ,but batteries don't look that big ..and there on a impact ,so better be light and compact .as of now we know of a 2.5 and a 4.0 amp hour battery they will be using 21700 cells for these packs.Will keep you all up to date.
Makita 18v Brushless String Trimmer Kit $199
Landscapers are demanding more cordless alternatives to gas-powered outdoor power equipment. Makita is meeting demand with an expanding line-up of cordless OPE, including the 18V LXT Lithium-Ion Brushless String Trimmer (model XRU11M1). With zero emissions, lower noise, and considerably less maintenance, the 18V X2 cordless string trimmer is a welcome solution for landscapers. It features an efficient Makita BL brushless motor for longer run time, increased power and speed, and longer tool life. The kit includes an efficient Rapid Optimum Charger and an 18V LXT 4. 0Ah battery which reaches a full charge in only 40 minutes – the fastest charge-time in the category – for less downtime and increased productivity. The efficient brushless motor delivers up to 6 000 RPM for faster cutting. The XRU11Z is equipped with Automatic Torque Drive Technology, which automatically shifts from 4, 000-6, 000 RPM depending on the density of the application. There are three speed options (4, 000/5, 000/6, 000 RPM), allowing users to match the speed to the application. On the high setting, users will get up to 30 minutes under load while using an 18V LXT 4. 0Ah battery. Additional features include a full 11-3/4″ cutting swath, an easy-loading bump-and-feed trimmer head, and reverse rotation that allows users to quickly clear the head of entangled grass and weeds. The XRU11Z accepts industry standard M8x1. 25 LH spindles. The XRU11M1 features Makita Extreme Protection Technology (XPT). XPT is a protective seal inside the tool, and is engineered for improved operation in harsh conditions by channeling water and dust from key internal components.
Amazon https://amzn.to/2nfG2H4
Milwaukee Packout Milk Crate
Milwaukee Tool continues to revolutionize tool transportation, organization, and storage for the trades with the addition of a PACKOUT™ Crate to their widely popular PACKOUT™ Modular Storage System*. PACKOUT™ is not only the most versatile and durable modular storage system in the industry, it is also the largest. Through an intuitive and quick attachment mechanism, the new PACKOUT™ Crate provides users an additional storage option to stack within existing PACKOUT™ systems.
Constructed of impact resistant polymer and equipped with a 50lb weight capacity, the PACKOUT™ Crate offers maximum durability and easily connects to all Milwaukee® PACKOUT™ Modular Storage System products.  With rear hanging points for vertical use and top attachments for stacking full-width PACKOUT™ components, the crate provides users with multiple mounting options.MSRP
$39.99
LAUNCH DATE
November 2019
DeWalt 500 Lumens Motion-Activated LED Rack/Shelf Light Kit (3-Piece)

When Harbor Freight first announced their line of Icon professional tools, they listed an early price of  $2499 for their 56″ x 25″ x 45″ tool cabinet, comparing it to Snap-Ons $6775 price. When fully accessorized with a work center, end locker, and other add-ons, the total price was $7294 compared to $18,125 for Snap-On comparable setup.the 56″ x 25″ cabinet has a $3999 list price. As seen below it totes 8000 pounds of weight capacity, not sure how that test was done ,but seems high ..
I personally don't know to many people walking into a harbor freight willing to spend $4000 on tool storage . Aren't the reason they are there is to spend $1.00 on zip ties or $10 on some deep well sockets . I don't think this was the right way to go considering their main clientele. I personally think taking there popular U.S. General and Yukon brands and making a solid ,but cheaper alternative to the Snap-ons of the world would be more popular with their customers. Someone leaving H.F with $8,000 less then when they walked in doesn't seem to logical.
Post a Comment, see what others are saying, click here!
Skil Saw Cordless Wormdrive Saw
Chervon H.K. didn't waste anytime from there late 2016 purchase of Skil saw from @boschtoolsna to come out with a lithium ion version of there popular wormdrive Skil saw.
With Brushless Motor & Electric Brake, delivering jobsite durability & performance. Full magnesium construction.
Stay Cool™ Cell Technology
Each cell is wrapped with a temperature controlling material that keeps cells cool to provide better performance.
Innovative Battery Design
Our unique arrangement of battery cells evenly distributes heat to extend run times.
Intelligent Power
Management System
Our innovative system monitors and optimizes each cell to maximize power, performance and run time. Pre-Order Mid October 2019
🔵Makita  Deal!!
Home Depot https://homedepot.sjv.io/ZjgZz
U.S. GENERAL 5 -Drawer Tool Cart Now Available in White
As many of you guys know im a big fan of these U.S.General 5-Drawer tool carts ,sold at Harbor Freight, now they added added a new color to the fleet ..White. Probaly not the best color as everything will be very view able on  it ..but attractive any way.
Features & Specs
Lid opens to 90°
2 gas struts for lid support
Rolled drawer edges
Spring-loaded drawer latches hold drawers shut
Full-extension ball bearing drawer slides
5″ casters – 2 swivel, 2 fixed
Pre-cut drawer liners
Barrel key lock
30″ long x 41-3/8″ tall x 22″ depth
700 lbs total weight capacity
Weighs 144 lbs
Also available in red, orange, green, yellow, black, and blue.
SKU: 56429
$169 w/coupon
DeWALT DEAL !! EPIC DEAL on DeWalt Flexvolt Worm Drive Saw (Bare Tool and Kit)
BARE TOOL https://amzn.to/2xII0BH
Kit w/6.0Ah https://amzn.to/2XKlF1c
DeWalt 12v Brushless XTREME !! Finally 
The new XTREME Subcompact Series™ tools from DEWALT include the Brushless 12V MAX* Drill/Driver, the Brushless 12V MAX* Impact Driver, the Brushless 12V MAX* Screwdriver, the Brushless 12V MAX* 3/8-inch Impact Wrench, and the Brushless 12V MAX* Hammerdrill. Specific details about each tool as well as a complete list of products is included below:
The 12V MAX* Brushless Drill/Driver (DCD701) is optimized for use in small pilot holes and can handle up to a 1/2-inch spade bit. The tool is 5.97 inches long and 1.91 pounds (tool-only). It's lightweight and fits in tight places. It offers up to 250 UWO (Units Watts Out), a variable speed trigger, and 2-speed transmission. A belt clip and a bright LED are included on the tool's foot.
The 12V MAX* Brushless Impact Driver (DCF801) works well with small fasteners and can handle up to a 1/4-inch lag bolt. The tool is 5.05 inches long and 1.75 pounds (tool only). It achieves up to 1,450 in-lbs. of max torque, making it a powerful, subcompact choice. The impact driver features 3 modes: High Speed, Low Speed, and Precision Drive™ Mode. Precision Drive™ Mode can pause the Impact Driver for one second before impacting. This protects the fastener and material surface, providing users with control during applications that require a high level of precision. The tool includes three LEDs on the nosecone, a variable speed trigger, and a belt clip.
The 12V MAX* Brushless Screwdriver (DCF601) is best used with hard-to-reach fasteners that need the control of its 15-setting clutch. The tool is 4.81-inches long, 1.5 pounds (tool only), yet is capable of up to 200 UWO of power. It features a belt clip and three LEDs on the nosecone.
The 12V MAX* 3/8-inch Brushless Impact Wrench (DCF902) with a Hog Ring Anvil is designed for hard-to-reach nuts and bolts. The tool is 5.11 inches long and 1.73 pounds (tool only), achieving up to 1,500 in-lbs. of max fastening torque and 2,400 in-lbs. of breakaway torque. It features a variable speed trigger and has 3 modes: High Speed, Low Speed, and Precision Wrench™ Mode. The Precision Wrench™ Mode helps prevent overtightening and run-off. The Impact Wrench also features three LEDs on the nosecone to help illuminate work areas.
The 12V MAX* Brushless Hammerdrill (DCD706) is optimized for creating variety of holes in brick and block, but can also tackle smaller holes in concrete. The tool is 6.6 inches long and 2.04 pounds (tool-only). It's subcompact, lightweight, and fits in tight places. It offers up to 250 UWO, 25,500 BPM, a variable speed trigger, and a 2-speed transmission. A belt clip and LED are included on the tool's foot.
In addition to the efficiency and performance offered by brushless technology in the XTREME Subcompact Series™ tools, the 12V MAX* lithium ion battery included with each tool kit now features a Fuel Gauge charge indicator. With a quick button press, three LEDs display remaining battery charge. The 12V MAX 2.0Ah Battery (DCB122) is included in kits, and the 12V MAX 3.0Ah Battery (DCB124) is available separately in single and double packs. DEWALT 12V MAX* Batteries with Fuel Gauge are compatible with prior DEWALT 12V MAX* tools and chargers and come with a 2-year limited warranty.
For professionals looking for capable, subcompact tools that perform tough applications in hard to reach spaces, the XTREME Subcompact Series™ tools are the ultimate choice. Available in summer 2019, each tool comes with a three-year limited warranty, one-year free service contract, and a 90-day money back guarantee.
DEWALT DCF899B 20V MAX XR Brushless High Torque 1/2″ Impact Wrench Review

When it comes to the world of power tools, a formidable manufacturer is none other than DeWalt. But, does this DeWalt DCF899B Brushless Impact Wrench deliver the power you should expect from such a world-renown company?

It features a heavy-duty impact mechanism capable of handling a max torque of up to 700 ft-lbs and a maximum breakaway torque of 1,200 ft-lbs.

The impact wrench has a 3-speed selector switch for controlling drive/torque depending on your application. A bright LED light is also added to enable you to work in low light situations.

This DeWalt impact wrench model is a very well balanced and ergonomically designed unit. So, what are the features that we fell in love with in this unit?

DeWalt offers us this mode with a detent pin. The detent pin anvil contains a retaining pin that you must press to release any socket from the impact driver.

The detent pin is perfect for those people who intend to work in elevated positions and will be driving nuts or bolts of the same size. This is a common feature in construction type projects such as building or bridge assembly and water tower assembly, where a detent pin prevents the socket from unexpectedly falling out.
Makita 200 Piece Metric Bit and Hand Tool Set
Article by Sam Spinosa
The Makita 200 piece metric bit and hand tool set #D-37203. A single kit that can dish out bits for multiple tools. Impact, hammer, and standard drill drivers can find the majority of bits they need all in one place. Highly recommend to guys that either have no existing bit kits, or if you just want a ton of non impact stuff all in one spot. Some of the hand tools are a little chintzy, like the metric tape measure isn't that useful, but there are several other great details about it.
* All the different size bits you would expect, with addition of some oversize drives: 3 sizes of T40 (torx), hex bits all the way up to H8, and 1 pozidrive p24.
* This kit has a book design where if opening the case from left to right, the right panel can also open revealing a set of hand tools on the bottom of the case.
* It has a complete line of nut setters from 5.5mm to 13mm. If you work on auto body panels you might appreciate the shorter profile 13mm for Dodge, 10mm for Toyota, etc.
* It has 3.2mm & 3.5mm drill bits, which make perfect pilot holes for standard #8 and #10 screws.
* Aside from the countersink, it comes with an 8mm spade bit which can also create the right size countersink for most commonly used flat head screws.
* The included 5 piece hole saw set goes from 1 to 2.5 inches
* The box cutter comes fully loaded with 7 refills and the screwdriver is a ratcheting driver.
* The blow mold resin case has everything labeled in resin, no stickers. I wish it was waterproof but it isn't. Maybe middle of the road thickness of the resin. It's definently not susceptible to being cut or chipped.
Amazon https://amzn.to/2GoCYhA
Kobalt Tool Cart Q2 Deal
Available May 6th at Lowe's ..
 Bosch 18v Freak 2 Impact Driver (GDX-1800)
Coming soon the freak 2 will have 150 more in/lbs of torque and go from 3200 IPM to 4200 IPM over the idh182 model
Amazon https://amzn.to/2DgKPNj
Milwaukee M18 FUEL GEN3 Impact Driver

Amazon https://amzn.to/2UJvRqp
Milwaukee Electric Tool 2520-21XC M12 Hackzall Saw Kit

Amazon https://amzn.to/2LrAtNL
Bosch Compact Laser Distance Measure, 120-Feet GLM 35
Amazon https://amzn.to/2S3ZL6R
Knipex 2611200 Long Nose Pliers with Cutter, 8 Inch
Knipex 2611200 Long Nose Pliers with Cutter, 8 Inch
Amazon https://amzn.to/2QZUGz4
Stiletto Ti16MC Ti 16 Milled Face Hammer with a Curved 18″ Hickory Handle
Amazon https://amzn.to/2PFnAQi
Estwing Sure Strike California Framing Hammer – 25 oz Straight Rip Claw with Milled Face & Hickory Wood Handle – MRW25LM
Amazon https://amzn.to/2rzfoYw
Coming 2019* MILWAUKEE BLACK PACKOUT BOXES
10Pack 12V 2000mAh Lithium-ion Replacement Battery for Milwaukee M12 Milwaukee 48-11-2411
Amazon https://amzn.to/2QuBkBV
Bosch 18V Starter Kit with CORE 6.3 18V Battery and Charger GXS18V-01N14
Amazon https://amzn.to/2Ss2YNv
Makita B-49373 75 Pc. Metric Drill & Screw Bit Set
Amazon https://amzn.to/2PgTR0d
SKIL PWRCore 12 Brushless 12V 1/2 Inch Cordless Drill Driver, Includes 2.0Ah Lithium Battery and PWRJump Charger – DL529002
Amazon https://amzn.to/2PdXHa1
SKIL PWRCore 12 4.0Ah Lithium Battery with PWRAssist Mobile Charging – BY519801
Amazon https://amzn.to/2Srf3m4
BOSTITCH BTFP3KIT 3-Tool Portable Air Compressor Combo Kit

DeWalt DG5540 Cooler Tool Bag, 11 by DEWALT
Amazon https://amzn.to/2U4s9Hq
GEARWRENCH 84916N SAE/Metric 3/8″ Drive Impact Socket Set (44 Piece)
HOME DEPOT https://amzn.to/2QiXKpM
M12 12-Volt Lithium-Ion Extended Capacity Battery Pack Combo W/ 6.0Ah and 3.0Ah Batteries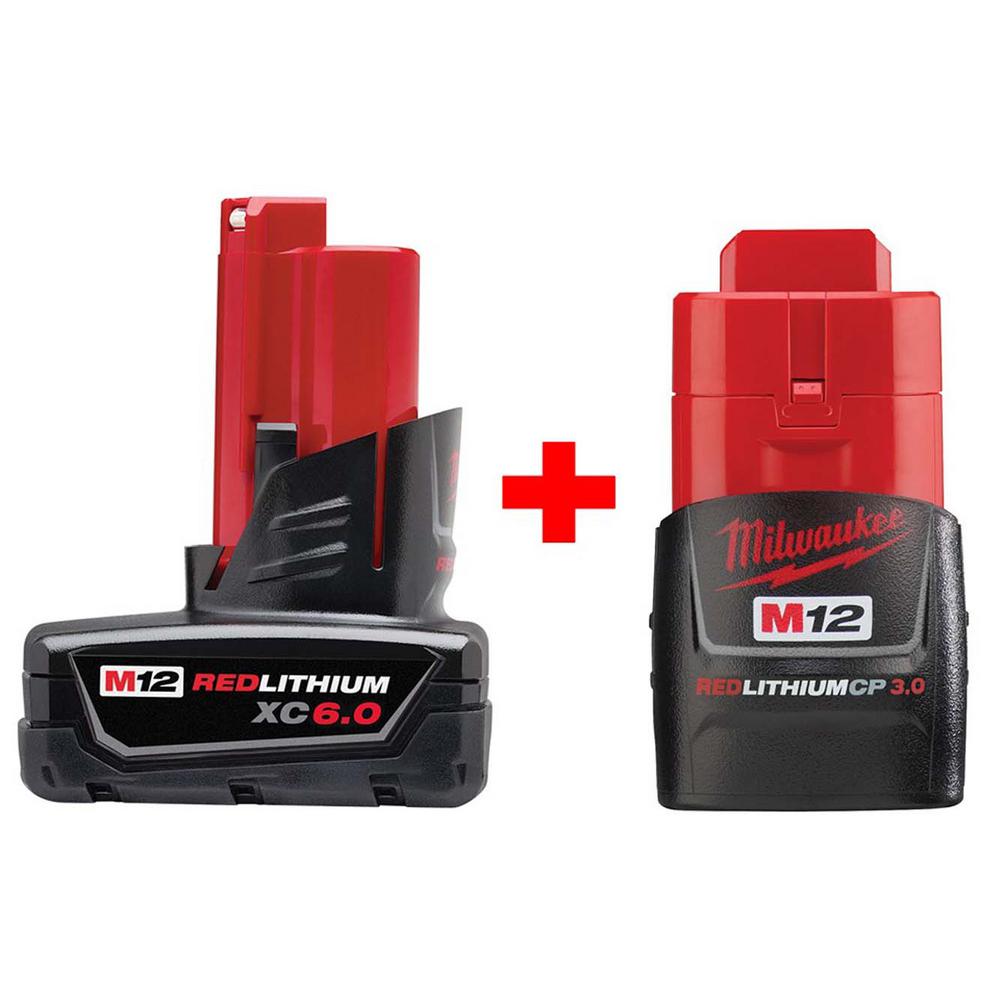 Milwaukee 48-11-1890 M18 M18B FUEL RED LITHIUM HD 9.0 Ah Li-Ion BATTERY Pack
Amazon https://amzn.to/2P2hSrL
Milwaukee 48-11-1850 M18 Redlithium 5.0Ah Bat Pack
Amazon https://amzn.to/2R8joKD
Ingersoll Rand W5132-K22 IQV20 Series Impactool Kit, 3/8″ Impact Wrench